Application
Material handling in various industries including agricultural, commercial and metal preparation.
Background
The client required to modernize their existing plastic extrusion machine since maintenance costs were rising and line production was decreasing due to component failures and part obsoleteness. The upgrade would allow for simple re-­connection of field devices such as thermocouples, heating elements and sensors. The main extrusion motor and drive was to be changed from a legacy DC system to a new AC motor and drive system.
Requirements
One of the most critical requirements was a stable temperature control solution capable in a short time to maintain an operating temperature (400 degrees C) with a tolerance of +/-­ 0.2 degrees C for 29 heat and heat/cool zones. Additionally, the new visualization system needed to be consistent with what the operators were used to, and to provide increased diagnostic tools such as trending. Finally, high production demands required that the retrofit be completed without impacting the production schedule.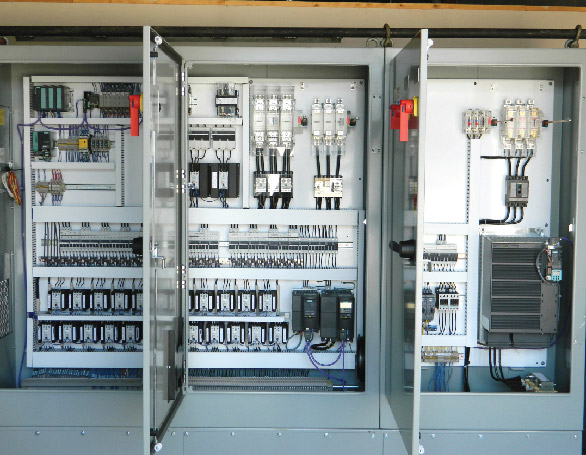 Technology Used
High accuracy temperature controllers were implemented on a Fieldbus network communicating with the PLC system.
Communication between the temperature controllers and the PLC allowed for remote change of temperature set-­points and visualization of actual temperatures and trends via remote HMI. The latest in drive system technology was also implemented on a Fieldbus network, reducing commissioning and maintenance time associated with wiring.
"Precise, reliable, and accurate …"
– Engineering Manager
Approach and Result
Dominion Automation designed the new automation and control system after doing a thorough review of the existing system then built and installed the ESA certified panel. The new motor was sized appropriately and installed using the existing belt/pully system. All PLC programming, drive system configuration / programming and HMI development was done by Dominion Automation. The project was completed slightly ahead of time and resulted in a machine that now gave them responsive yet stable temperature control of their 29 zones. The modern AC drive/motor and visualization revolutionized the process. Process diagnostic tools and a new control cabinet with up-to-­date drawings and components became readily available.
For more information, please contact us.